PROVIDING COST-EFFECTIVE AIRBNB, VRBO, HOSPITALITY PROPERTY INTERNET SERVICES TO GUESTS AND OWNERS ALIKE

Click To Call Us Toll Free from anywhere on the Planet.
KEY BENEFITS
Cost-Efficiency – Affordably-priced unit allows usage of existing DSL service for guest cabin and eliminates need to purchase additional service.
Time Savings – Gives cabin guests immediate access to Internet and eliminates lengthy walks to main house for email and other online information.
Enhanced Security – Enhances efficient operation of security camera on cabin property through rapid delivery of streaming data.
THE CHALLENGE
Brian Jones wants friends, family and guests to enjoy every convenience when they stay at the Airbnb guest cabin on his sprawling 53-acre property in North Carolina. This includes access to high-speed Internet service. But when he decided to connect the cabin, he realized the job wouldn't be as simple as running a cable from the existing service in the main house to the guest residence. 
The cabin is 850 feet away up the side of a mountain, a distance that undoubtedly would cause significant data degradation. Getting separate DSL service for the guests at the Airbnb cabin would generate an additional monthly expense that he certainly wanted to avoid. Brian decided that an Ethernet Extender would be his best option.
DISCOVERING THE SOLUTION
Using Google, Brian conducted an online search for suitable extenders. He finally selected the Enable-IT 860, encouraged by the company's solid warranty, customer testimonials, and extensive product line. "Enable-IT appeared to be a better put-together company," commented Brian. The fact that Enable-IT manufactures its products in the USA and offers solid customer support also tipped the scales in the company's favor.
THE ENABLE-IT 860 PROVES THE IDEAL CHOICE
Installing the 860 was a relatively simple task. To connect the device, Brian used standard telephone company cable. He simply took two unused wires within the cable and connected these to the DMARC wiring in his home. He then plugged this wiring into a special RJ-45 jack, which in turn established a connection with the telephone company cable running to the Airbnb cabin. He created a similar connection with an 860 unit in the cabin itself. A router was set up in each location. The system was up and running in about two hours.
The system has been operating flawlessly ever since. Since cabin guests now have full access DSL services, they completely avoid time-consuming and inconvenient trips down the mountainside to the main house. Trudging 850 ft. to access email is hardly anyone's idea of a good time, especially if the weather is less than friendly.
Thanks to the 860's high speed accuracy, Brian also can monitor the cabin security remotely from his primary residence in Florida. Since the 860 transmits up to 100Mbps full duplex, the unit provides the live streaming data required by the wireless security camera set up on the property. This camera is connected to a router, which is plugged into the nearby 860 unit. Should the system detect motion outside the cabin, it sends Brian an email alert. The 860 has provided a comfort level that wasn't possible before.
According to Brian, the 860 system has met his every expectation since its July, 2010 installation. "I'm very satisfied," he enthused, citing both the product performance and its affordable pricing. When the elimination of additional DSL service is factored in, the cost savings are enormous. "It will pay for itself in ten months," assured Brian.

A Complete End-to-End Solution
►Enable-It 860 PRO Gigabit Ethernet Extender over Copper up to 1.83 Miles or 2.9 KM
► The Original Black Box Ethernet Extender Over 1-Pair (CAT, Coax or Phone) Wiring
► Plug In And Go – No Playing around… Peace of Mind Simplicity
► Transparent Ethernet 802.3 bridging of all protocols (VLAN, IP Video, IP Audio, etc.)
►Any CUSTOM options available at time of order for the Enable-IT 860 PRO Gigabit Black Box Ethernet Extender Solution
► USA AS9100D Aerospace Factory Floor Direct Same Day Insured & Tracked Shipping
THE INDUSTRY GOLD STANDARD SINCE 2005


Professional Business Grade Performance
Ruggedized Black Box Ethernet Extender Extreme Temperature Industrial Enclosure
Encrypted & Secure – Only Extenders Trusted In US Govt Networks
Leverage any 1-pair of existing or new wiring that is contiguous all the way up to 1.83 Miles (9,000ft) or 2.9Km (2,900m) encrypted and secure, effectively saving you thousands in labor, administration, and security. Think fiber is cheap? Have you ever priced or paid for fiber troubleshooting? Think again.
Quad port Gigabit LAN switches built into each end coupled with industrial strength components to survive harsh temperature extremes delivers twice as much value and capabilities no other competitor can touch. 
The 860 PRO Gigabit Black Box Ethernet Extender VDSL2 Technology achieves further deployment distance and faster throughput @ 300Mbps vs G.Hn Technology.
Utilizing Enable-IT Technology: 860 PRO Rev E to elongate the Ethernet and allow for a Cheap, Efficient and Convenient installation system in Airbnb,VRBO, and other hospitality property! 860 PRO Rev E Manual for your next Ethernet Extender project.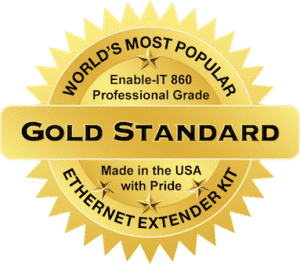 Want Free A Custom Design Consultation?
We Are More Than Happy to Listen To Your Specific Project Needs.
Enable-IT Guarantees Your e-Mail Privacy 100%
Your Information Is Never Shared Or Sold.