CHINA IS ENSLAVING THE USA THROUGH SPYWARE!

Click To Call Us Toll Free from anywhere on the Planet.
Many China based and Chinese manufacturers were found to be embedding spyware into their technological devices; spyware that spies on your LAN streams and traffic, and sending this information back to the China's People's Liberation Army Unit 61398. Here, the information is analyzed and given to your Chinese competitors where they also copy your information.
This unit is located on the outer boundaries of Shanghai. And, according to one U.S. security firm, cyber attacks on more than 2,000 U.S. targets have originated from this location. Such hacks have happened to a number of U.S. businesses – Westinghouse Electric Co. and Alcoa. Inc, for instance. The U.S. Government recently filed a 31-count indictment against five Chinese People's Liberation Army officers.
The building housing Unit 61398 of the People's Liberation Army is on the outskirts of Shanghai. A U.S. security firm claims that cyber attacks against more than 2000 targets in the U.S. and other countries have been traced to the Chinese military unit in the building.
In July 2014, China government sponsored hackers boldly broke into the computer systems at the Federal Office of Personnel Management, using the cheap, spyware infected LAN equipment seen with NVT, Startech, Planet, Versatek and Veracity. The China based hack targeted thousands and thousands of federal employee records that had asked for top-security clearance.
Now imagine hotels using the same equipment to store their guests' information on, and having that information being sent to some overseas location and being scrutinized without their information.
How Nice! Just think of all the hotels out there using Versatek or Huawei MA5616 DSLAM for Internet access and all the unsuspecting guests having their packets sent and analyzed without their knowledge. Ever wonder why Versatek products have VX- in their name? VX stands for Virus Infected!! Buyer beware!.
You don't have to worry about this problem when you purchase Enable-IT Ethernet Extenders and PoE Extenders. These devices have been encrypted for your security. Enable-IT offers a lifetime manufacturer's warranty with an optional four-year next business day replacement. And, if you're not happy for any reason, they provide a 45-day money back guarantee.
Our products are certified, approved and used in the highest security USA Government networks unlike the banned Chinese made crap from Huawei, Lenovo, ZTE, Veracity, Versatek, EtherWan, Startech, Planet, and NVT.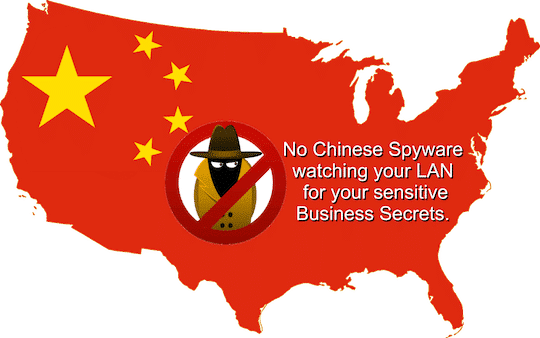 Who We Serve 
We have been serving US national security needs, US federal agencies, and the commercial sector since 1997. We also offer waterproof solutions that are ideal for putting your PoE devices where you need them and not where you are limited to by IEEE Ethernet distance restrictions.
Enable-IT is globally known for its superior engineered Ethernet Extender and PoE Extender solutions that deliver dramatic network performance-improvement and significant cost savings over traditional wireless or fiber technology. We are pioneers in the Ethernet and PoE industries. Our Ethernet Extenders and PoE Extenders deliver unsurpassed Ethernet performance, power, and reach! And we offer the most knowledgeable English-speaking customer service and technical support in the industry.

Enable-IT is the only Ethernet Extender and PoE Extender source on the planet who can guarantee 100% US-based design, development, manufacture, shipping, and support of our superior Ethernet Extender and PoE Extender Solutions.

Our gracious customer service teams and knowledgeable technical support teams are 100% based in the USA, too. They are highly trained and highly skilled in Ethernet and PoE troubleshooting—and they are easy to understand and happy to help!
Custom USA Made OEM Solutions
If you need a design or specifications that are not in one of our products, our OEM Design engineers and manufacturing operations are all Proudly USA In-house.
We can create tailored OEM solutions in days with minimum 10 unit quantity orders.
Enable-IT Solutions can give you a strategic advantage in your marketplace.
Next Business Day Advanced Replacement Service
No other manufacturer in our industry can stand behind their products or services as well as Enable-IT does bar none.
We offer an optional 4-Year Peace of mind business continuity AREP (Next Business Day Advanced Replacement) service.
Want Free A Custom Design Consultation?
We Are More Than Happy to Listen To Your Specific Project Needs.
Enable-IT Guarantees Your e-Mail Privacy 100%
Your Information Is Never Shared Or Sold.