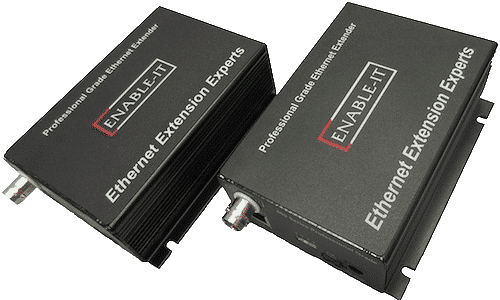 Enable-IT 860C PRO Coax Ethernet Extender
MSRP $599 A Complete Solution End-To-End
► The PLANET's most trusted and deployed brand since 1982
► Professional Grade 860C PRO Gigabit Coax Ethernet Extender at lower cost than Fiber or Unsecure Wireless
► Gigabit Ethernet Extender up to TWENTY-SEVEN times beyond IEEE 802.3 specs
► The 860C PRO Gigabit Coax Ethernet Extender uses 1-pair coaxial wire up to 1.7 Miles or 2.74km
► Secure and Encrypted Communications between Ethernet Extender devices
► Any CUSTOM 860C PRO Gigabit Ethernet Extender options available at time of order
► ENABLE-IT USA Factory Floor Direct Same Day Shipping
---
DESIGNED & MADE IN THE USA WITH QUALITY AND PRIDE.
PROFESSIONAL BUSINESS GRADE PERFORMANCE,
RUGGEDIZED EXTREME TEMPERATURE ENCLOSURE,
ENCRYPTED AND SECURE.
---
► Beware of competitors as some are banned in the USA due to spyware or malware.
► Don't risk your business data to cheap, low quality imported LAN equipment!
► Protect the value of your LAN data and company secrets.
► Insist on the Enable-IT Brand, trusted by security experts worldwide.
In-Stock NOW Product UPC: 896741002317