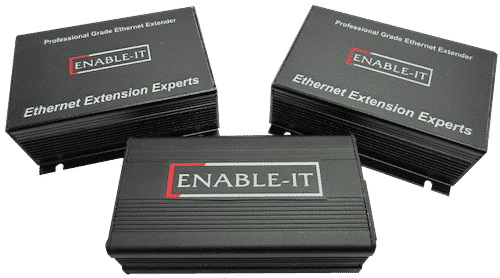 Enable-IT 865 PRO Gigabit PoE Extender
MSRP $699 A Complete Solution End-To-End
► PoE Extender for IP Cameras over SEVEN times further than IEEE 802.3 specs
► The
PLANET's
most trusted and deployed brand since 1982
► Instant ON – Ideal for Mission Critical LAN Uptime and Power Recovery
► Leverage any 2-pair or 4-par wiring up to (2,500ft) or (762m)
► Secure and Encrypted Communications between devices
► ENABLE-IT USA Factory Floor Direct Same Day Shipping
► Any
CUSTOM
option available at time of order
► Available in an IP68 Rated Waterproof Enclosure –
see 865W
---
DESIGNED & MADE IN THE USA WITH QUALITY AND PRIDE.
PROFESSIONAL BUSINESS GRADE PERFORMANCE,
RUGGEDIZED EXTREME TEMPERATURE ENCLOSURE,
ENCRYPTED AND SECURE.
---
Put your PoE device where you need to and not where you are limited to. Ideal for installing PoE cameras or WiFi Access Points rapidly.
► Beware of competitors as some are banned in the USA due to spyware or malware.
► Don't risk your business data to cheap, low quality imported LAN equipment!
► Protect the value of your LAN data and company secrets.
► Insist on the Enable-IT Brand, trusted by security experts worldwide.
In-Stock NOW Product UPC: 896741002447
The Enable-IT™ 865 PRO Gigabit PoE Extender kit is an ideal solution to install your IP surveillance cameras, WiFi access points, VoIP phones and other PoE devices where you need, not where you are limited to by false thinking LAN distance restrictions. It can operate up to 3,500ft / 1,066m from you power and data source and supports any PoE enabled WiFi Wireless Access Point, Security camera or other PoE powered equipment. This eliminates the need for your installers adding power supply outlets and associated AC power cabling, providing an affordable, safe and reliable power solution over your wiring or existing Ethernet infrastructure.

Using the provided High Powered 61W 56V Gigabit PoE Injector, a single (120V ~ 240V) IEC 320 C14 standard Country specific power cord input will deliver PoE power sufficient enough to deploy multiple 12V ~ 24V / 6W ~ 30W PoE devices anywhere you need to.

Keep in mind that all DC including (PoE) voltage drops over distance and thicker gauge wire will help this issue. As a rule of thumb you will lose up to 6V per every 200 feet of wiring, depending on the gauge. For example in Category 5 or 6 24 AWG there is less wire/copper to conduct electricity which is lower power strength at distance due to impedance. Lower power strength increases the amperage and that generates more heat in the wire. Depending on distance, you may need to use more pairs or wire or 18 gauge wiring as a dedicated DC power buss – like low voltage landscape wire and run Ethernet on a 1-pair 24 AWG. There are options to maximize your distance and PoE output when used in conjunction with our PoE Extenders or PoE DSLAM that can power a 56V 60W PoE IP PTZ Camera at 4,000 ft away.

Enable-IT is the seminal creator and inventor of Ethernet Extender and PoE Extender concepts and technology. We are the original trusted source.The US Federal Govt has banned most all non-US made networking products in their networks – Why risk your business using cheap foreign LAN products?

Try the world's fastest performing and most cost effective Ethernet Extender and PoE Extender Solutions –

With a 45-day money-back guarantee and Same Day Flat Rate Shipping, you have nothing to lose.

► Designed and Made in our USA AS9100D Aerospace Quality Production Facilities.

► Professional Business Grade Product, Solid reliability not Chinese Home Use crap.

► Includes the Industry leading Limited Lifetime Manufacturer Warranty.

► Optional 4 year Next Business Day Advanced Replacement for under $1 per month!
What's the cost of your network being down?

► Insured, Same Day Flat Rate Shipping – US West Coast Factory Floor Direct.

► Get some Peace of Mind – 45-day Money Back Guarantee.
►

Extended Ethernet with Power over Ethernet (PoE ) on 2, 3 or 4 pair existing Telephone wiring or category rated wiring.


►

Rapid LAN style installation RJ45 jacks – no programming required.


►

Ruggedized Professional Business Grade mountable casing for harsh environments.


►

Network Equipment independence – Transparent to protocols, applications and MAC addresses.


►

Longest warranty protection included exceeding any knockoff competitors.


►

Quad Gigabit LAN ports on each end to eliminate the need for LAN switches.
This kit includes the following:
(2) EnableIT 865 PRO Gigabit PoE Extender Units
(2) 10′ Black Ethernet patch cords
(1) 12V-1A DC Country Specific (120-260V AC) Power Adapter 2.5mm DC jack
(1) Enable-IT 360 56V – 61W IEEE 802.3at Gigabit PoE+ Injector
(1) IEC 320 C14 (90 – 264V AC) Country Specific power cord for the 360 Injector
(1) Enable-IT 865 PRO Quickstart Guide

► Same Day Flat Rate Shipping – US West Coast Factory Floor Direct
► 45-day Money Back Guarantee
► Lifetime Manufacturer Warranty
► Optional 4yr Next Business Day Advanced Replacement

Power

CO unit – 12V-1A DC Country Specific (120-260V AC) Power Adapter 2.5mm DC jack included.

CPE unit – remote self powered uses 5v and passes remaining PoE budget to end PoE device

Data Rate

1,000Mbps full-duplex Ethernet Data
260Mbps Interconnect throughput
Ethernet LAN Protocol Independent
Ethernet LAN MTU 1500
IP VLAN passthough

Interface

Ethernet: (4) LAN RJ-45 Standard 10/100/1000 Base-TX autosensing ports
Interlink: RJ-45 (2-Pair min)
Optimal power at distance, use 4-pair Cat5e or better wiring.

Dimensions

Height 1.4″ (35mm) Depth 3.4″ (86mm) Width 4.4″ (111mm)

Environment

Operational Temperature: -49°F to 168°F (-45°to 76°C)
Humidity: 5% to 95%, non-condensing

Enclosure

Ruggedized wallmount black Aluminum casing Optimized for heat extraction and isolation without fans.
#1 ► Designed and Made in the USA
Factory Direct Highest Quality Expert Product Engineering.
Don't be fooled by foreign companies with US offices selling you cheap quality electronics from who knows where.
Insist on USA made high quality equipment and support.► Why a Made in the USA product Matters
#2 ► Professional Grade Equipment – Trusted Reliability
(Ruggedized, Extreme Distance, Highest Throughput, OEM Customizable, Encrypted and Secure)
Since 1997, we have been manufacturing the highest quality Made in the USA Ethernet Extenders
US Factory Floor direct same day flat rate shipping. ► Our commitment and promise of quality and real value.
#3 ► Lifetime Product Warranty
Peace of Mind Longest Product Warranty in the industry – Limited Lifetime Product Warranty.
Why would you waste your time and money with anything of inferior quality
or from a company that doesn't stand behind its own products?► Warranty Details
#4 ► 45-Day Money Back Guarantee
For those who wish to try our superior USA engineered Ethernet and or PoE technology.
We offer a gracious 45-Day trial period when purchasing single unit kits per our policy ► Money Back Details
#5 ► Certified Spyware Free
Buyer Beware! Knockoff competitors of our products have been banned by the US Govt for containing data stealing spyware.
Our products are trusted in some of the most secure environments such as control of US Nuclear weapon systems through
our national security contracts for the DOD and US Military.
#6 ► No Configuration – Plug and Go – Highest Throughput
All of our products are ready ring out of the box. Simply connect the devices to your cabling and plug them in if they require a power adapter.
There are no configuration parameters to set up! We even include your country-specific power adapters.
Don't settle for low bandwidth. And because we offer the highest speeds of any Ethernet Extender Manufacturer, we make sure you won't have to.
High performance without compromise – that's what you'll get.
#7 ► Same Day Flat Rate Shipping – US Factory Floor Direct
Our US West coast AS9011D manufacturing facility processes all orders placed by 3:30pm PST and expedites for same day shipping worldwide.
Flat Rate Domestic US Shipping – See our preferred shipping commitment – See our policy ► Shipping Details
#8 ► Next Business Day Advanced Replacement Service
No other manufacturer in our industry can stand behind their products or services as well as Enable-IT does bar none.
We offer a 4-Year peace of mind business continuity AREP (Next Business Day Advanced Replacement). – See our ► AREP Details
#9 ► US Based Expert Technical Support and Customer Care Team
No need to speak Mandarin or Urdo and or wait days to get timely support to technical questions answered.
Our Expert Technical Customer Care Team along with our OEM Design engineers and manufacturing operations are all Proudly USA In-house.
We take great pride in listening to and understanding your needs and providing professional timely support.► Reach Tech Support
#10 ► Custom USA Made OEM Solutions
If you need a design or specifications that are not in one of our products, our OEM Design engineers and manufacturing operations are all Proudly USA In-house.
We can create tailored OEM solutions in days with minimum 10 unit quantity orders. Enable-IT can give you a strategic advantage in your marketplace – ► Try Enable-IT