HOW DIGITAL IP-BASED PTZ CAMERAS ARE REVOLUTIONIZING THE SECURITY INDUSTRY

Click To Call Us Toll Free from anywhere on the Planet.
There have been more and more businesses using the Pan/Tilt/Zoom (PTZ) video security cameras to protect their operations and assets. However, the reality is that some business owners have no full comprehension of the benefits it can get or expect too much from these cameras.
That's why it's vitally important to do your research and understand what the technology can do for your business and its needs for a business security camera.
The Past…
In the past, PTZ cameras had to use the VCR-based analog recording as a way to cover more locations, but there were no fixed cameras available. The problem was that analog VCR recorders could accept a limited number of cameras, causing it to split the resolution across the cameras that were linked together, using a multiplexer. If more cameras were added to the system, it would mean another round of multiplexers, time-lapse VCR recorders and other equipment be added as well. And, this could get pricey!
It was easier to install just one PTZ camera to cover the area that needed up to four fixed stationary cameras. Plus, analog devices needed two kinds of cables:
• One cable to power the cameras
• One cable to carry the signals
The Present…
However, the company security systems can now benefit from digital IP PTZ video cameras along with network-based DVR/NVR recording that provide advanced automation, features and coverage for amazing benefits.
Cloud-based DVR/NVR recording is a new kind of technology that encrypts streams and protects recordings to ensure they're secure. It has an added benefit of dealing with multi-site security without pricey upgrades. PoE IP cameras need just one cable to deliver the Ethernet LAN data and PoE, using just one-pair of wire (twisted or coax pair).
In the installation of PoE IP-based Fixed or PTZ cameras, Ethernet LAN wiring or coax can only extend out 328 feet from the data and power source – a distance limitation that manufacturers have incorrectly put into action. Thanks to the Enable-IT's PoE Extenders, PoE IP-based PTZ and fixed cameras can reach 3,000 feet away from the data and power source.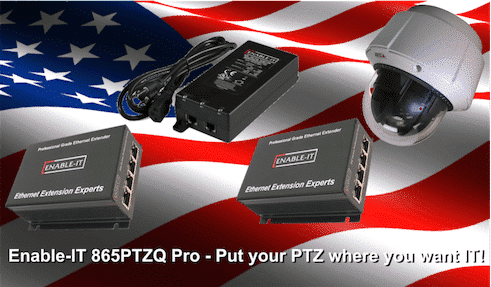 Why Are PTZ Cameras So Beneficial?
How can a person determine if a PTZ camera is the answer to a particular area?
PTZ cameras can automatically or manually move the camera, zooming in on certain activities when they happen. PTZ cameras can be programmed to tilt, pan and zoom for a certain path, ensuring a concrete non-stop surveillance.
There are options to control the PoE IP PTZ cameras using tablets, smartphones and PCs. Fixed IP cameras are best for locations that involve doorways or hallways where passage and entry happens and zoom is set up for the best possible image coverage. There are some fixed IP cameras that can be set up for automatic zoom and capture still image, not just high-definition video streaming.
No matter what kind of PoE IP camera you choose – or if you decide to mix and match – remember that you need something that'll protect your business. It will give you some peace of mind to know that assets in various locations will meet your needs. There's no more worry about the limitations associated with IP or PoE camera… due to the shortsightedness of manufacturers.
Who We Serve
We have been serving US national security needs, US federal agencies, and the commercial sector since 1997. We also offer waterproof solutions that are ideal for putting your PoE devices where you need them and not where you are limited to by IEEE Ethernet distance restrictions.
Enable-IT is globally known for its superior engineered Ethernet Extender and PoE Extender solutions that deliver dramatic network performance-improvement and significant cost savings over traditional wireless or fiber technology. We are pioneers in the Ethernet and PoE industries. Our Ethernet Extenders and PoE Extenders deliver unsurpassed Ethernet performance, power, and reach! And we offer the most knowledgeable English-speaking customer service and technical support in the industry.
Custom USA Made OEM Solutions
If you need a design or specifications that are not in one of our products, our OEM Design engineers and manufacturing operations are all Proudly USA In-house.
We can create tailored OEM solutions in days with minimum 10 unit quantity orders.
Enable-IT Solutions can give you a strategic advantage in your marketplace.
Want Free A Custom Design Consultation?
We Are More Than Happy to Listen To Your Specific Project Needs.
Enable-IT Guarantees Your e-Mail Privacy 100%
Your Information Is Never Shared Or Sold.