RACKMOUNT MULTIPORT EXTENDED ETHERNET AND POE DSLAM
---
RACKMOUNT MULTIPORT ETHERNET AND POE EXTENDER DSLAM CONCENTRATORS
---
MULTIPORT EXTENDED ETHERNET CONCENTRATOR (DSLAM) RUNS, IDEAL FOR CONNECTING MANY DISTANT LOCATIONS (UP TO 24,000ft) TO A SINGLE RACKMOUNT BACKBONE SOLUTION. ENABLE-IT DSLAM UNITS ARE PERFECT FOR PROVIDING INTERNET AND NETWORK ACCESS TO MULTI-UNIT PROPERTIES LIKE HOTELS, OUTDOOR CAMPS, OFFICE COMPLEXES, APARTMENTS, CAMPUS FACILITIES, SKI RESORTS, STADIUMS, CONCERT VENUES, SHOPPING MALLS, RV/TRAILER PARKS,MARINAS AND CRUISE SHIPS.
THESE ARE PROFESSIONAL GRADE EXTENDED ETHERNET DSLAM
(Ruggedized, long range, highest-throughput, and customizable). They are more secure than any wireless technology and can deliver power over Ethernet where fiber can't. You can trust value of your company's LAN traffic and network vs cheap Chinese knockoff imitators that can contain insidious spyware.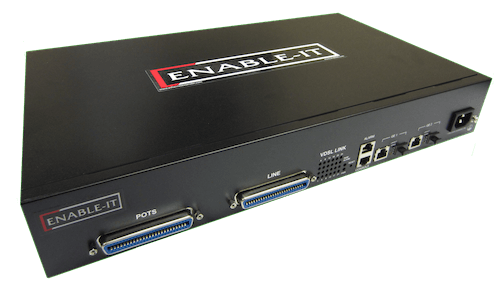 MULTIPORT EXTENDED POE CONCENTRATOR (DSLAM). WE MARRY ELECTRICAL, TELECOM AND LAN NETWORKING ONTO UNIQUE SOLUTIONS CAPABLE OF DEPLOYING POE DEVICES UP TO 4,000FT AWAY. PUT YOUR IP CAMERAS WHERE YOU NEED THEM, NOT WHERE FALSE 328FT LAN LIMITS RESTRICT YOU. THESE ARE EXCELLENT FOR POWER HUNGRY POE DEVICES IN A 4,000FT RADIUS FROM YOUR SINGLE RACKMOUNT LAN AND POWER SOURCE.
The value of your network investment and Ethernet LAN data should always be a priority vs low cost LAN gear that may be suitable for a so called "Chinese" Business Grade network, Not yours…
THESE ARE PROFESSIONAL GRADE EXTENDED PoE ETHERNET DSLAM
(Ruggedized, long range, highest-throughput, and customizable).
EASILY ADD GIGABIT IEEE 802.3 AF (48V) POE OR IEEE 802.3AT (56V) POE+ POWER TO YOU POE SURVEILLANCE CAMERAS, POE WIFI ACCESS POINTS, POE ACCESS CONTROLS OR ANY POE DEVICES WITH EASY-TO-INSTALL, PLUG-AND-GO INDUSTRY STRATEGIC INNOVATIONS FROM ENABLE-IT.
Built in automatic PoE power detection for correct device power requirements and supply appropriate power wattage draw, even 30W or above.
Protection for non-PoE devices such as printers, laptops and sensitive LAN devices.
High Quality Gigabit backplane PoE midspan switches designed for performance and solid reliability. Custom OEM designs to meet your demanding specifications.
Enable-IT has been best team I've ever worked with. Custom networking solutions that help us exceed our customers expectations! Unparalleled design and integration support throughout our entire process and ongoing product development for new solutions.

R Sheldon, Teledyne Seabotix
Enable-IT has consistently delivered the highest security solutions for our demanding customers. Unable to use banned Chinese products in your network? Enable-IT made in the USA solutions are Secure and Encrypted for our peace of mind DoD customers.

R Stone, General Dynamics IT
Being the world's largest electronic security cooperative, we recommend the highest quality, greatest security and most flexible solutions from Enable-IT, Inc. Seriously, the custom support for our buyers needs from the experts at Enable-IT is unmatched!

Marcus Batten, PSA Security Network