STEEL FOUNDRY – SOLVING EXTREME CHALLENGES W/RUGGEDIZED SOLUTIONS

Click To Call Us Toll Free from anywhere on the Planet.
KEY BENEFITS
Major reduction in workplace danger/accidents.
Creative custom solutions to meet extreme challenges.
Smart LAN gear leveraging Extended Ethernet for live production control.
Tripling of production and plant growth as a result.
MEETING EVOLVING PRODUCTION DEMAND AND GROWING BUSINESS NEEDS FOR STRONG STRUCTURAL STEEL LTD.
Steel foundry operations are one of the most challenging environments for any piece of equipment. Challenges such as extreme heat, micro pollutants and distances to reach monitoring and control equipment are spread out across a huge production line with lots of very dangerous hazards everywhere.
Strong Structural Steel Ltd. tested and then leveraged the technology of Enable-IT Ethernet Extenders to meet and beat these challenges head-on. Extender kits were ruggedized and encased in NEMA/IP rated enclosures in the key production control areas and on the production floor. These kits were placed where flexible category rated cabling was able to reach the necessary LAN based monitoring and control interfaces. Prior to using the Enable-IT Ethernet Extension equipment, this was not possible and required brave individuals to regularly venture out to each location to manually operate and collect information. Now the control systems are enabled and automated to keep workers safe, better monitor the live production line and grow the operations to meet business demand without a major increase in labor costs.
IMPROVING PERFORMANCE ON THE FACTORY FLOOR
With the use of LAN based digital control equipment, more precise handling of live production operations can be monitored, controlled and augmented more quickly by Strong Structural Steel. Previously this level of production control was not available without manual operators at each of the controls requiring longer time to make adjustments. The dangerous environment of the foundry floor also presented an issue before. The Enable-IT Ethernet Extension equipment has allowed this to be automated in such a fashion so that workers safety is not compromised and the LAN equipment making the adjustments never grows tired of the repetition or makes mistakes. Overall production has been able to triple and plant growth is able to more easily flex to meet changing output demands.
REDUCING PRODUCTION DOWNTIME
Equipment maintenance on a foundry production floor is critical to overall up time of production operations. Foundry production has thousands of moving parts, cranes and other heavy-duty mechanical equipment that requires constant monitoring and maintenance. The monitoring chores were performed by visual inspection and manual re-tooling adjustments. Downtime for unforeseen repairs costs the business dearly, so the implementation of new LAN based smart monitoring sensors and re-tooling adjustments is able to more rapidly alert control staff as to potential issues. These also allow minor problems to be fixed before they grow into larger, more costly breakdowns.
CREATING NEW VALUE WITH A HIGH-PERFORMANCE EXTENDED LAN SOLUTION
The Ethernet Extension equipment has provided Strong Structural Steel Ltd. with a new prospective on how to leverage digital technology to control, manage and profit from this age old foundry business.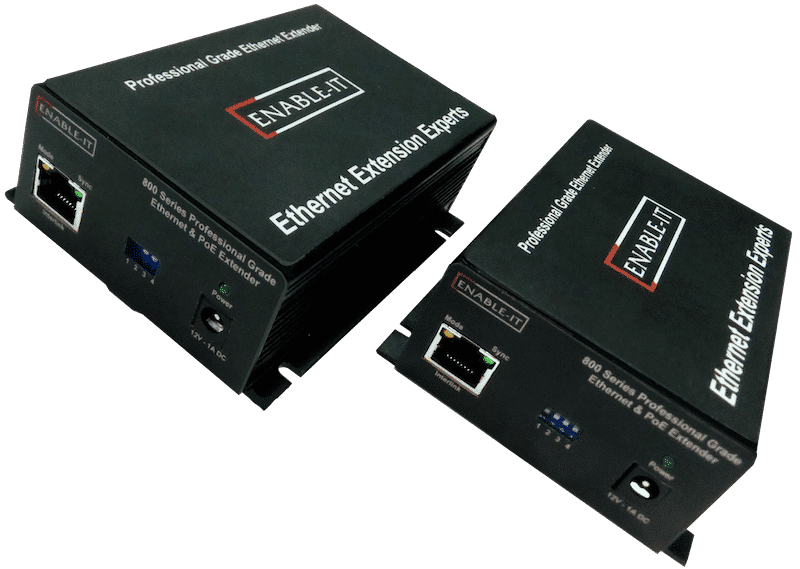 Leverage any 1-pair of existing or new wiring that is contiguous all the way up to 1.83 Miles (9,000ft) or 2.9Km (2,900m) encrypted and secure, effectively saving you thousands in labor, administration, and security. Think fiber is cheap? Have you ever priced or paid for fiber troubleshooting? Think again.
Quad port Gigabit LAN switches built into each end coupled with industrial strength components to survive harsh temperature extremes delivers twice as much value and capabilities no other competitor can touch. 
The 860 PRO Gigabit Black Box Ethernet Extender VDSL2 Technology achieves further deployment distance and faster throughput @ 300Mbps vs G.Hn Technology.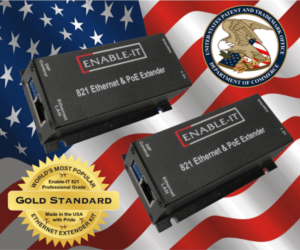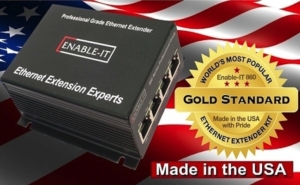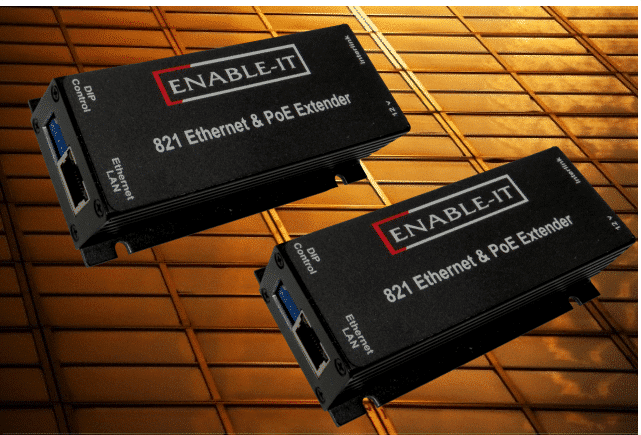 These American-made Enable-IT 821P PoE Extenders use industry LAN standard RJ-45 (8-pin) connectors to make installing in most any environment very easy. We have engineered most of the technical complexity into automatic line adjustments so the plug and go simplicity on your existing or new wiring is a snap. Ethernet Extension Experts designs and manufactures the 821P PoE )Power over Ethernet) Extender kit, along with its entire product line, in the USA that makes us more responsive to customer demanding needs. We use the highest quality materials and craftsmanship.
This is trusted Business Reliable Professional Grade Ethernet Extension without the high cost of fiber or un-secure wireless. Why risk your business to lower quality imported equipment? The value of your network communications should be a protected investment. Beware of Cheap Chinese "so called Business Use" (not even suitable US Home use) gear that is banned in the US due to proven hidden spyware. 
Want Free A Custom Design Consultation?
We Are More Than Happy to Listen To Your Specific Project Needs.
Enable-IT Guarantees Your e-Mail Privacy 100%
Your Information Is Never Shared Or Sold.