Utilizing Enable-IT's Knowledgeable Support Team, Thyssenkrupp Elevator Standardized on our Ethernet and PoE Extenders- Where Efficiency is always going up thanks to Enable-It Extension Technology

Click To Call Us Toll Free from anywhere on the Planet.
KEY BENEFITS
Improved Guest Safety – Faster and more accurate data delivery greatly enhances elevator monitoring.
Improved Guest Relations – Faster data delivery accelerates various elevator operations and reduces stressful waits.
Monetary Savings – Low cost of unit is matched by energy efficiency.
THE CHALLENGE
Day and night, twelve modern elevators had been whisking passengers to offices on the various floors of a particular Miami, Florida high-rise. But ThyssenKrupp Elevator, builders of this sophisticated elevator system, believed they could make a good thing even better. Faster communications would improve a number of important operations associated with the elevators. These operations included a card reader system that confirms passenger identities, a card reader override system that gives clearance to authorized visitors, calls to elevator cars, a floor security monitoring system, and an emergency stop switch control.
The existing system that controlled these functions extended from a CPU located at roof level to a computer console 1,200 ft. below in the lobby; well beyond Ethernet's distance limit of 328 ft. To achieve its new goal, ThyssenKrupp required a means of accelerating data delivery along the 1,200 ft. communications channel that controlled all the intricate elevator operations. PoE extenders would be needed.
DISCOVERING THE SOLUTION
Fortunately, ThyssenKrupp didn't have to look far for a suitable solution. Enable-IT had already provided PoE extenders for another company project. The results were stellar. Inspired by a flurry of internal recommendations, project management confidently secured a set of Enable-IT 865 PRO PoE Extenders for the current task. They were ready to take things to the next level.
SOLUTIONS USED
Enable-IT, Inc., a Made in the USA with quality and pride Ethernet and PoE Extender manufacturer, guarantees very long distance Ethernet and PoE device installations. Most of the products come with a a 45-day Money back guarantee and a lifetime warranty.
No Configuration – Plug and Go – Highest Throughput
All of our products are ready right out of the box. 
Simply connect the devices to your cabling and plug them in if they require a power adapter.
There are no configuration parameters to set up! We even include your country-specific power adapters.
Don't settle for low bandwidth. And because we offer the highest speeds of any Ethernet Extender Manufacturer, we make sure you won't have to.
High performance solutions without compromise – that's what you'll get.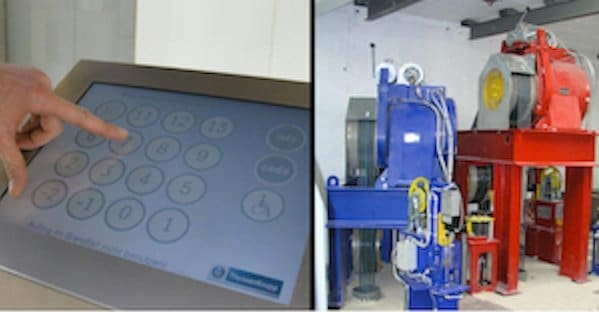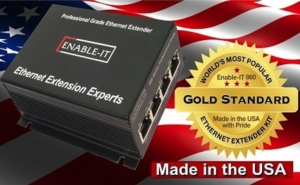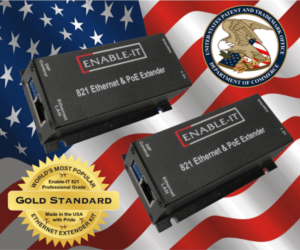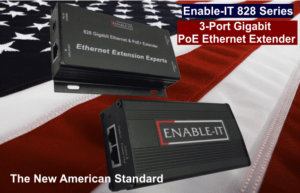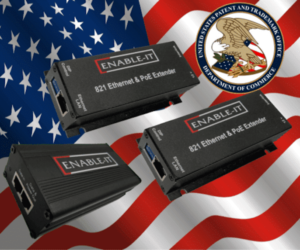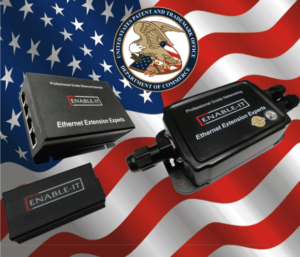 UTILIZING ENABLE-IT'S 45- Day Money Back Guarantee
Peace of Mind Longest Product Warranty in the industry – Limited Lifetime Product Warranty.
For those who wish to try our superior USA engineered Ethernet and or PoE technology.
We offers a gracious 45-Day trial period when purchasing single unit kits per our policy 
Need to Test Drive our Technology to see if it fits your Ethernet Extension Needs?
We have been serving US national security needs, US federal agencies, and the commercial sector since 1997. We also offer waterproof solutions that are ideal for putting your PoE devices where you need them and not where you are limited to by IEEE Ethernet distance restrictions.
Enable-IT is globally known for its superior engineered Ethernet Extender and PoE Extender solutions that deliver dramatic network performance-improvement and significant cost savings over traditional wireless or fiber technology. We are pioneers in the Ethernet and PoE industries. Our Ethernet Extenders and PoE Extenders deliver unsurpassed Ethernet performance, power, and reach! And we offer the most knowledgeable English-speaking customer service and technical support in the industry.
Enable-IT is the only Ethernet Extender and PoE Extender source on the planet who can guarantee 100% US-based design, development, manufacture, shipping, and support of our superior Ethernet Extender and PoE Extender Solutions.
Our gracious customer service teams and knowledgeable technical support teams are 100% based in the USA, too. They are highly trained and highly skilled in Ethernet and PoE troubleshooting—and they are easy to understand and happy to help!
Want A Free Custom Design Consultation?
We Are More Than Happy to Listen To Your Specific Project Needs.
Enable-IT Guarantees Your e-Mail Privacy 100%
Your Information Is Never Shared Or Sold.